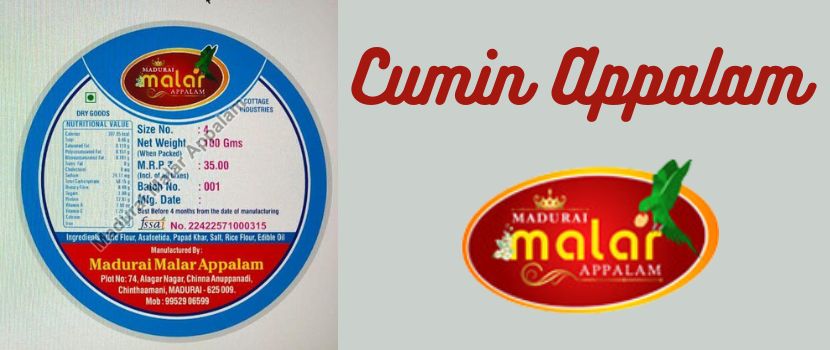 Cumin Appalam or Cumin Papad is a type of thin, crunchy snack food popular in South Asian cuisine. It is made from a mixture of lentil flour, spices, and cumin seeds, which are shaped into small rounds and then sun-dried or deep-fried until crispy.
Cumin Appalam Papad is a versatile food that can be enjoyed on its own as a snack or served as an accompaniment to main dishes such as curries, stews, and rice dishes. The cumin seeds add a unique, earthy flavor and aroma to the papad, making it a delicious and popular choice among food lovers.
It is widely available in the markets and are found in different added flavours as well. It can be bought or can be made at home which is not feasible for many. The combination of cumin and lentils make this papad a great snack to have and it goes well with everyone and everything.
They can be roasted or fried depending on your choice and some also prefer to microwave the papads to get a healthier version of it. It completely depends on person to person as how they wish to consume it but it is definitely a good pick to have.
Is it a healthy option for you?
A snack that is not only tasty but healthy too, Cumin Appalam Papad is a must in many households. Without these, their meals and snacks are incomplete. A list of health benefits are:
• They are rich in fiber and protein
• They are a tasty gluten-free snacks to have
• Low in fat and calories, they can be consumed guilt-free
• Contains antioxidants and vitamins which helps the body in many ways
Get the best quality papad
It is very important to check the quality of the papad before buying it. Here are the tips to buy Cumin Appalam:
• Check the ingredients list to ensure it is made with high-quality lentil flour and spices
• Look for papads that have a crispy texture and are evenly browned
• Check for uniform thickness, as this can affect the papad's cooking time and overall texture
• Make sure the papad is packaged in an airtight container to keep it fresh
Buy the best only from the best
Tips to find the best Cumin Appalam Papad manufacturer:
• Research online for customer reviews and ratings
• Look for manufacturers that use high-quality ingredients and follow traditional recipes
• Check for certifications and awards, such as ISO or FSSAI, to ensure quality standards are being met
• Reach out to the manufacturer to ask about their production processes and to request samples of their products.
In conclusion, cumin appalam papad is a delicious and healthy snack that can be enjoyed by people of all ages. By following the tips outlined above, you can find a quality Cumin Appalam Papad manufacturer and ensure that you are getting a delicious and nutritious product.
Overall, Cumin Appalam Papad is a tasty and convenient snack that is easy to prepare and enjoy. Whether enjoyed on its own or as a complement to a main dish, it is sure to be a hit among food lovers looking for a tasty and healthy snack option.