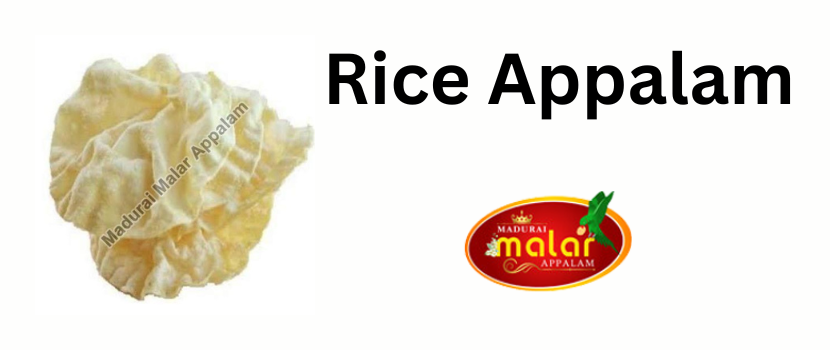 Papadum is another name for papad. Papad is just the name for the thin Indian wafer, often known as a cracker or flatbread. Rice Appalam Papad can be roasted or fried and is often made with dry lentils. There are many different papad tastes on the market that are created to meet the needs of every single person.
To improve both organoleptic and nutritional qualities, the papad's fundamental components might include grain flour, pulse flour, soy flour, spice mixtures, chemical mixtures, and various vegetable juices.
Any papad from Rice Appalam Manufacturer must first have its dough prepared. To produce the unique regional papad, the dough also includes tastes like salt and peanut oil. Another essential element for preparing a superb papad is baking soda. After being formed into a thin, circular flatbread, the dough is dried (traditionally in the sun). Papads can be roasted over an open flame, deep-fried, toasted, or microwaved.
In India, papad is an essential component of each meal. It is frequently used in dishes for snacks, chaat, or as an accompaniment to major courses. A prime illustration of Indian cuisine's brilliance is the papad. North Indian and South Indian papad are the two original varieties of papad.
They are available in a variety of shapes and sizes, including tiny, large, roasted, khakra, and many more.
There are many different brands of papads readily accessible on the market. Papads come in a range of delicious sizes and forms from any Rice Appalam Supplier. Always make sure they are dry and not tangled up with one another.
USES:
● Masala papad is one of the greatest types of papad to serve with beverages and mocktails.
● In India, papads are frequently offered as a side dish with many types of meals.
● You can have papad as a starter or a snack.
● Some of the greatest papad kinds are fried, roasted, open-flame, and oven-made papad.
● Papad curry, also known as papad ki sabzi, is a well-known Rajasthani dish that is made only from papad.
● A range of pickles, chutneys, and sauces go well with papad.
● You may get papad with a variety of flavours, including Punjabi masala, urad dal, moong dal, asafoetida, black pepper, green chile, red chile, cumin, garlic, ginger, cardamom, cloves, and cinnamon, among others.
● Since it improves the flavour of the dish, papad has been served with dal and rice over the years.
● The papad makes a delicious snack food.
● Papad can be eaten as a side dish or with the main course.
● Papad is frequently mashed and added to rice.
● Papad is usually on the menu of a classic Indian thali, platter, wedding buffet, party, etc.
● To cover the kebabs and tikkis, you can smash raw papads.
Rice Appalam Papad is a tasty appetiser and a rich source of fibre. Papad that has been roasted or grilled aids in absorbing the fatty substances from the mouth and throat. Papad should be consumed in moderation to avoid becoming the cause of acidity.
Papad has an extremely high salt content, making it unwise for those with hypertension.
Lentils are used to make papads, which makes them gluten-free, high in protein, and low in fat.